Semi-flush mount basket crystal chandelier with square stones & Crystal ball
Flush mount light decorated with top quality crystal octagons and square stones. The polished brass parts. 12 candle bulbs.

Courier services (UPS, TNT, FedEx)
Czech post, Airfeight (EMS)
All chandeliers we usually ships in 3 days. More about delivery
The current shipping status of this product: 3 týdny
Price exclude VAT. Tax will be updated during checkout based on your billing and shipping information.
Upravit tento lustr
Chcete tento lustr upravit? Umíme upravit velikost lustru, počet žárovek, typ a barvu ověsů, barvu kovu, délku zavěšení a další.

Upravit lustr
---
Popis lustru
The semi-flush mount basket crystal chandelier - For lower ceilings
Trimmings: Cut crystal octagons, crystal square stones - more than 30% PbO
Gold metal finish - glossy polished brass.
12 candle bulbs E14, 40 Watts.
Dimensions (W x H): 60 x 30 cm/ 23.6"x12.2"
(measured without hanging rod).
The chandelier comes with the brass hanging rod and ceiling rose.
Weight: 12 Kg/ 26.7 lb
Packaging does not include bulbs.
The maximum time for sending: 14 days.
OPTIONAL:
You can order metal finish: Silver (nickel coated brass), or pure gold Brass.
You can also order a smaller cheaper version of the chandelier:
e.g. P/No. 014090100, (W x H): 50 x 18 cm, 9 bulbs, 7 Kgs
& Wall lights in the same design ..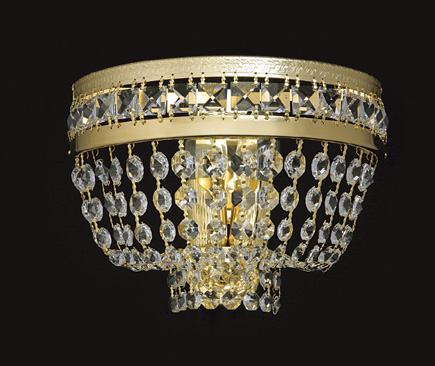 Dimensions and additional info